7 April 2021
Belarusian rescue workers, army engineers in joint exercise near Grodno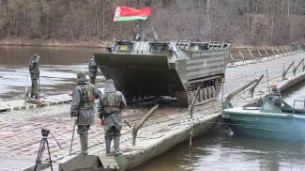 A joint tactical exercise involving units of the Emergencies Ministry, troops of the Western Operational Command, medics, and representatives of the Red Cross took place in Grodno District. Consequences of a broken bridge were dealt with as part of the exercise, BelTA has learned.
The main stage of the exercise took place not far from the agrotown of Gozha on banks of the Neman River. According to the scenario, the water level in the river rose fast due to melting snow, strong winds, and abundant precipitation. A bridge leading to a village was destroyed as a result and several households may be flooded. Apart from that, a fire broke out in the village that no longer had access to the road grid.
Only joint efforts of several agencies could manage the disaster. Army engineers promptly ferried rescue vehicles across the river and the rescue workers started fighting the fire. The ferry was soon replaced by a pontoon bridge. Local residents were evacuated. A special module to keep them warm was deployed and medics helped the victims. Red Cross volunteers provided the evacuees with hot meals. The saving of drowning people was also practiced in the course of the exercise.
Head of the Grodno Oblast Department of the Emergencies Ministry Dmitry Lakiza noted that the exercise had been arranged to improve interaction in the course of liquidation of emergencies. Such a complicated situation had not been modelled in Grodno Oblast before. "But we have to be ready to work properly and smoothly in any circumstances. This is what today's exercise is all about," he noted. He said that Grodno Oblast is already past the possible spring flooding period.
Oleg Ivashko, commanding officer of the 557th Engineer Brigade, said: "Our unit is in the final training stage. The pontoon and brigade battalion takes care of establishing bridges and ferries. It is important that today we've practiced interaction as well because army engineers are used as part of combined teams to deal with consequences and ongoing emergencies." He stressed that army engineers provide assistance outside exercises, too. For instance, they built a temporary bridge next to a broken permanent one in Zhitkovichi District several years ago.
Over ten vehicles and more than 30 specialists were deployed for the exercise. An exhibition of rescue and emergency response equipment of the Emergencies Ministry and the Belarusian army was also arranged.